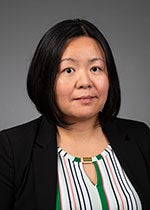 Teaching Assistant Professor
Email: reeces23@ecu.edu
Voice: 252-744-3431
Office: BSOM 6S-09
Education
Ph.D. Physiology, Brody School of Medicine, East Carolina University
M.S. Biomedical Engineering, West China Medical Center, Sichuan University, China
B.E. Engineering, Xihua University, China
Research Interests
My research is focused on understanding how environmental exposures to air pollutants, allergens, or nanoparticles can lead to immune mediated lung damage and ultimately led to chronic lung diseases.  Asthma is a heterogeneous lung disease with different immune phenotypes.  One of the specific phenotypes is neutrophilic asthma that has been associated corticosteroid insensitivity and chronic airflow obstruction.  Little is understood about the mechanism underlying of neutrophilic phenotype and the molecular elements that control it.  The primary goal of my research is to identify novel molecular and cellular mechanisms involved in neutrophilic asthma.  By understanding these novel mechanisms, I will be able to identify new strategies for the treatment of neutrophilic asthma through new therapeutic targets.
Publications
Michael J Yaeger, Sky W Reece, Brita Kilburg-Basnyat, Miles X Hodge, Anandita Pal, Katelyn Dunigan-Russell, Bin Luo, Dorothy J You, James C Bonner, Espen E Spangenburg, Debra Tokarz, Johanna Hannan, Michael Armstrong, Jonathan Manke, Nichole Reisdorph, Robert M Tighe, S Raza Shaikh, Kymberly M Gowdy. Sex Differences in Pulmonary Eicosanoids and Specialized Pro-Resolving Mediators in Response to Ozone Exposure.  Toxicol Sci. 2021 Aug 30;183(1):170-183.
Sky W Reece, Sanjay Varikuti, Brita Kilburg-Basnyat, Katelyn Dunigan-Russell, Myles X Hodge, Bin Luo, Jennifer H Madenspacher, Seddon Y Thomas, Debra A Tokarz, Robert M Tighe, Donald N Cook, Michael B Fessler, Kymberly M Gowdy.  Scavenger Receptor BI Attenuates IL-17A-Dependent Neutrophilic Inflammation in Asthma.  Am J Respir Cell Mol Biol. 2021 Jun;64(6):698-708.
Melissa Iñigo, Adam Amorese, Michael Tarpey, Nicholas Balestrieri, Keith Jones, Daniel Patteson, Kathryn Jackson, Maria Torres, Chien-Te Lin, Cody Smith, Tim Heden, Shawna McMillin, Luke Weyrauch, Erin Stanley, Cameron Schmidt, Brita B. Kilburg-Basnyat, Sky W Reece, Christine Psaltis, Leslie Leinwand, Katsu Funai, Joseph McClung, Kymberly Gowdy, Carol Witczak, Dawn Lowe, P. Darrell Neufer, Espen Spangenburg. Estrogen receptor-α in female skeletal muscle is not required for regulation of muscle insulin sensitivity and mitochondrial regulation.  Mol Metab.  2020 Apr;34:1-15.
Dylan K. McDaniel, Veronica M. Ringel-Scaia, Sheryl Coutermarsh-Ott, McAlister Council-Troche, Jonathan W. Angle, Justin B. Perry, Grace Davis, Weinan Leng, Valerie Minarchick, Yi Yang, Bo Chen, Sky W Reece, David A Brown, Thomas Cecere, Jared Brown, Kymberly M Gowdy, Michael F Hochella Jr, Irving Coy Allen.  Pulmonary Exposure to Magnéli Phase Titanium Suboxides Results in Significant Macrophage Abnormalities and Decreased Lung Function.  Front Immunol.  2019 Nov; 10: 2714
Myles X. Hodge, Sky W. Reece, Jennifer H. Madenspacher, Kymberly M. Gowdy.  In vivo assessment of alveolar macrophage efferocytosis following ozone exposure.  J. Vis.  Exp. 2019 Oct; (152)
Robert M. Tighe, Anastasiya Birukova, Michael J. Yeager, Sky W. Reece, Kymberly M. Gowdy.  Euthanasia and Lavage Mediated Effects on Bronchoalveolar Measures of Lung Injury and Inflammation.  Am J Respir Cell Mol Biol. 2018 Aug; 59(2)
Brita Kilburg-Basnyat, Sky W. Reece, Miranda J. Crouch, Bin Luo, Andria D. Boone, Michael Yaeger, Myles Hodge, Christine Psaltis, Johanna L. Hannan, Michael L. Armstrong, Nicole Reisedorph, Robert M. Tighe, S. Raza Shaikh, Kymberly M. Gowdy.  Specialized pro-resolving lipid mediators regulate ozone-induced pulmonary and systemic inflammation.  Toxicol Sci. 2018 Feb; 19
Stephan Lefcoski, Kimberly Kew, Shaun Reece, Justin Parks, Sky Reece, Lisandra E. de Castro Brás, and Jitka A. I. Virag.  Anatomical-Molecular Distribution of EphrinA1 in Infarcted Mouse Heart Using MALDI Mass Spectrometry Imaging.  J Am Soc Mass Spectrom.  2018 Mar; 29(3): 527-534
Xiaojia Wang, Jonathan H. Shannahan, Jared M. Brown.  IL-33 modulates chronic airway resistance changes induced by multi-walled carbon nanotubes.  Inhal Toxicol.  2014 Mar;26(4):240-9.
Xiaojia Wang, Ramakrishna Podila, Jonathan H. Shannahan, Apparao M. Rao, Jared M. Brown.  Intravenously delivered graphene nanosheets and multi-walled carbon nanotubes induce site specific Th2 inflammatory responses via the IL-33/ST2 axis.  Int. J. Nanomedicine 2013; 8: 1733-1748.